T.W.I.N. Holiday Gift Guide
Picking the perfect gift can seem like an impossible task. So to help, we've created the T.W.I.N. Holiday Gift Guide. No matter who you need to shop for, we have ideas on what T.W.I.N. items they'll love most. Plus, since we're a sustainable, gender inclusive brand, you won't have to choose between your conscience and your shopping list this holiday season.
Bonus: If you read this guide and still can't decide, you can always book a personal styling session with us, and we'll help you pick the perfect presents for everyone on your list.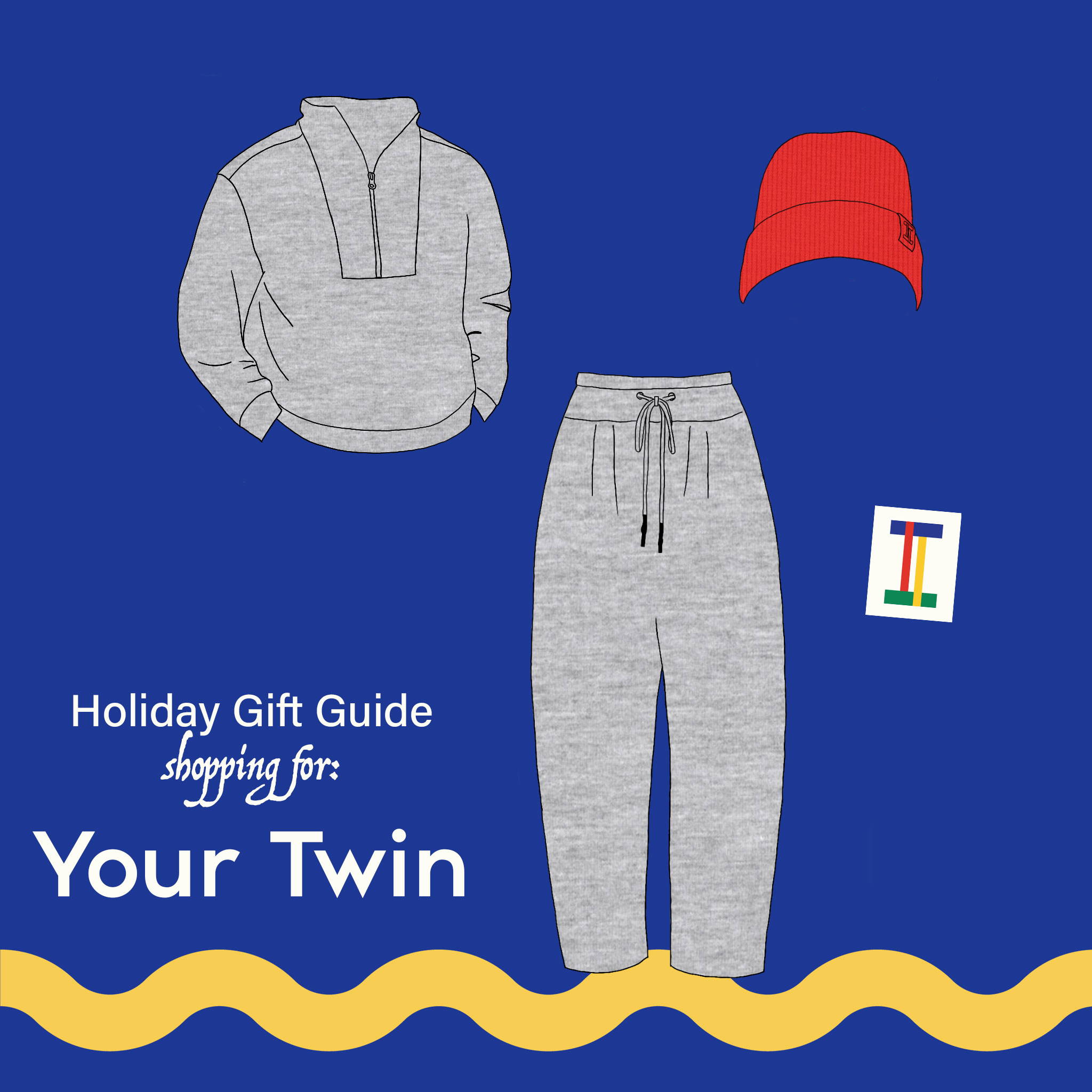 Your Twin
(fraternal, identical, or twin flame)

For the person nearest and dearest to your heart, we recommend gifting our French Terry Sweat-set. Regardless of age or gender, your twin will love these sustainable pieces, made of deadstock 100% organic french terry cotton. To finish off the gift, pick out a beanie in any one of our 7 color options. Our Beanies are perfect for keeping cozy inside or braving the cold outside. And of course, pick up a sweat-set and beanie for yourself so you can twin while you cuddle up for movie nights and take out.
We all have that one cousin in their teens who's wayyyyy too cool for everyone else. If you're the lucky individual who draws their name for the family gift exchange, don't stress. We've got you! Our Cropped Collared Cardigan is a bestseller for a reason. It's super soft and comes in 4 fun colors, making it the perfect gift for anyone. The Satin Slip Skirt not only pairs perfectly, but also can be dressed up for the holidays. Finally, everyone loves a Bucket Hat, and ours are reversible. You get two hats for the price of one and avoid the worry that you pick the wrong color.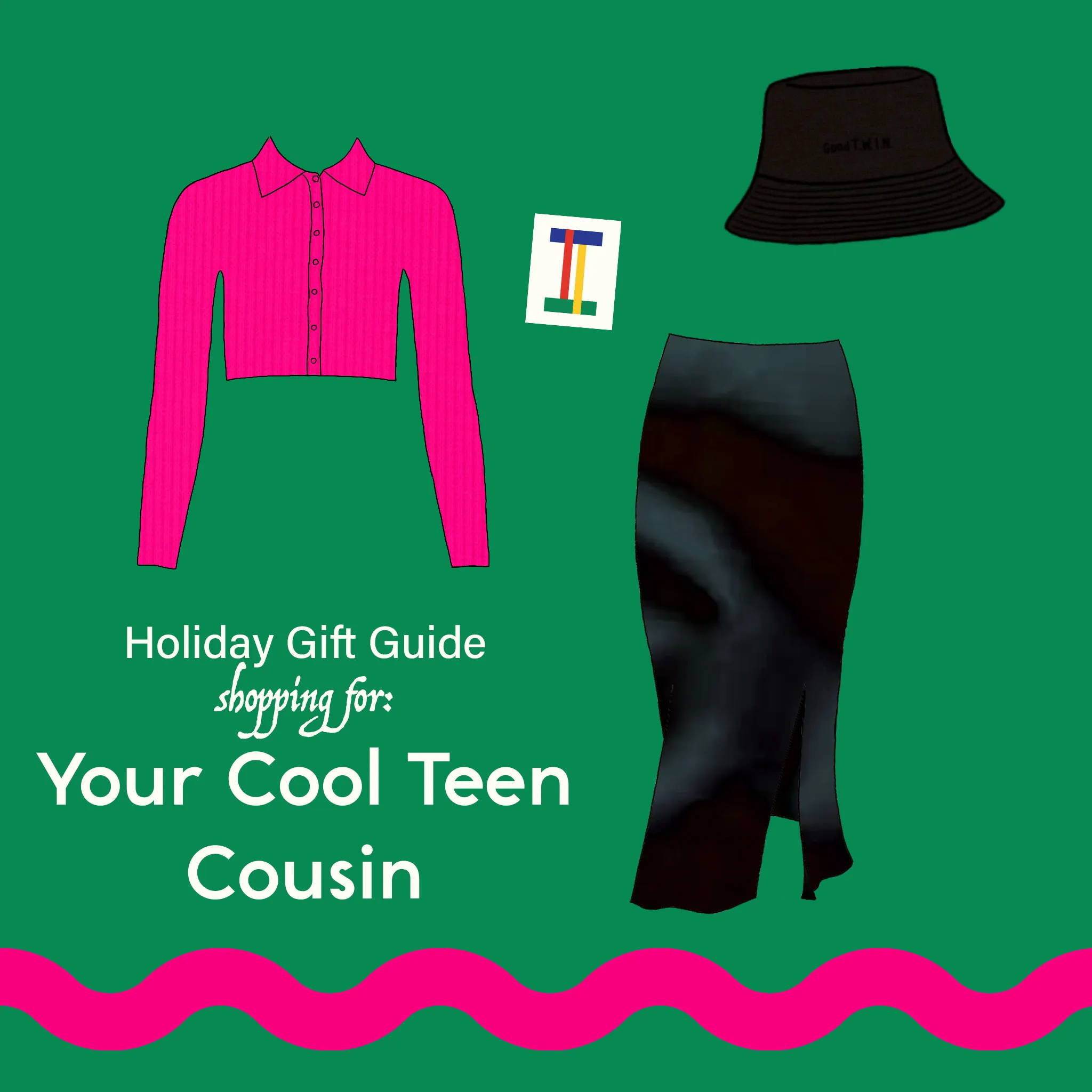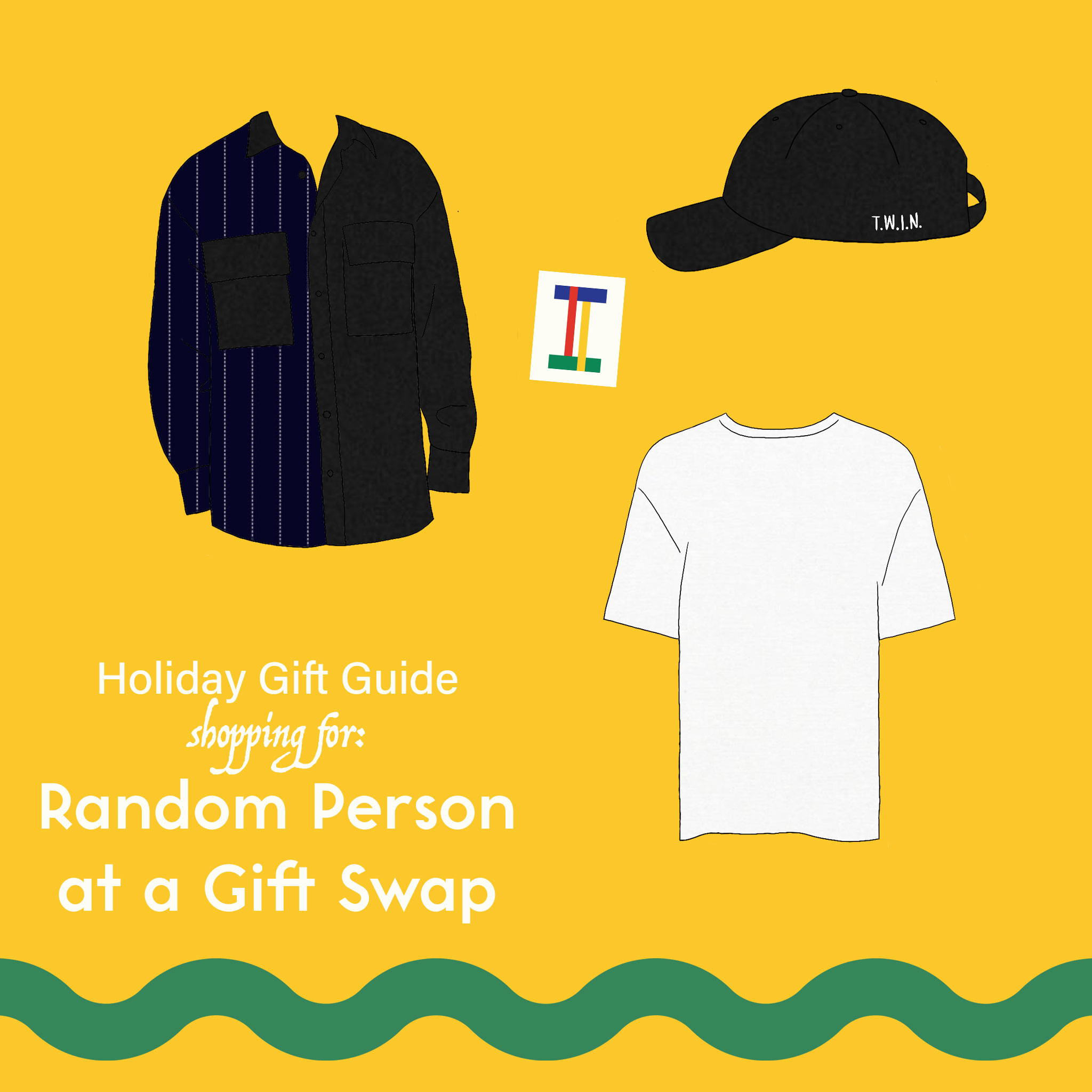 A Random Person at a Gift Swap
So, you've been invited by an acquaintance to a holiday party with a gift swap...great. Now what?! T.W.I.N. offers gender inclusive clothing that anyone can wear. Our Color Block Shirt is an item that plays up T.W.I.N.'s signature duality as an item that's casual yet classic, masculine yet feminine. Another staple piece/crowd-pleaser is our Oversized T-Shirt, which is relaxed, breathable, and one size fits most. Our Baseball Cap is another great gender neutral gift and can be sporty or chic, depending on what it's paired with. Gifting this hat is a no-brainer, the only decision is picking the color. Everyone will be trying to swap for these gifts and you'll be a hit!
Nothing says love quite like a suit, especially one that's ultra-comfy while still being fancy. The combination of our Knit Waistcoat, Knit Blazer, and Knit Pleated Trouser is perfection rolled into one unbelievably comfy outfit. Your S.O. will adore how the trousers feel like sweatpants and that the blazer is unstructured and flexible. These 3 pieces are the perfect way to hint that you want to go out dancing more while still giving them something they'll love. They can be worn all together for a polished look, or broken up as separates for something more casual. No matter how they chose to style it, the 3 piece suit is most definitely what they need.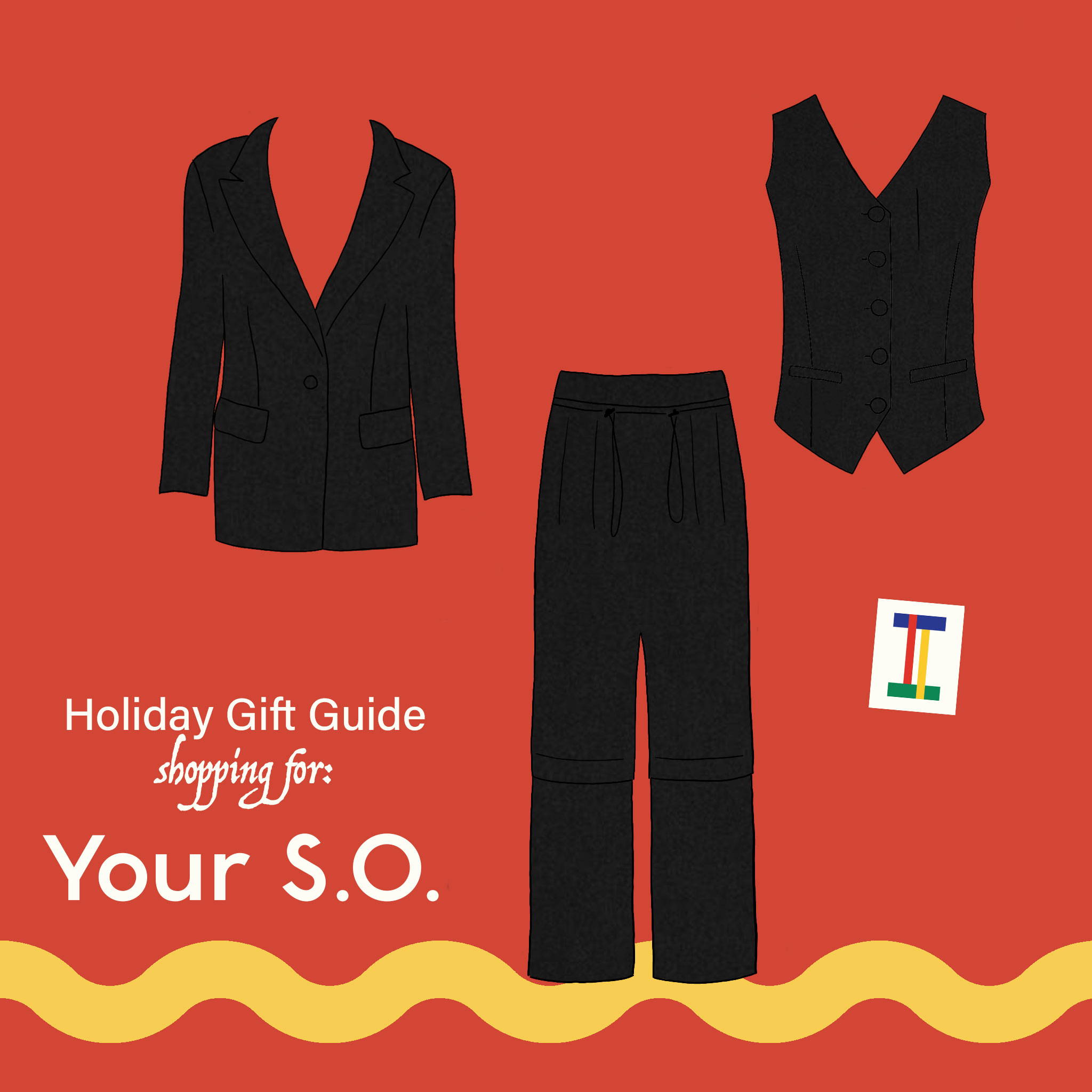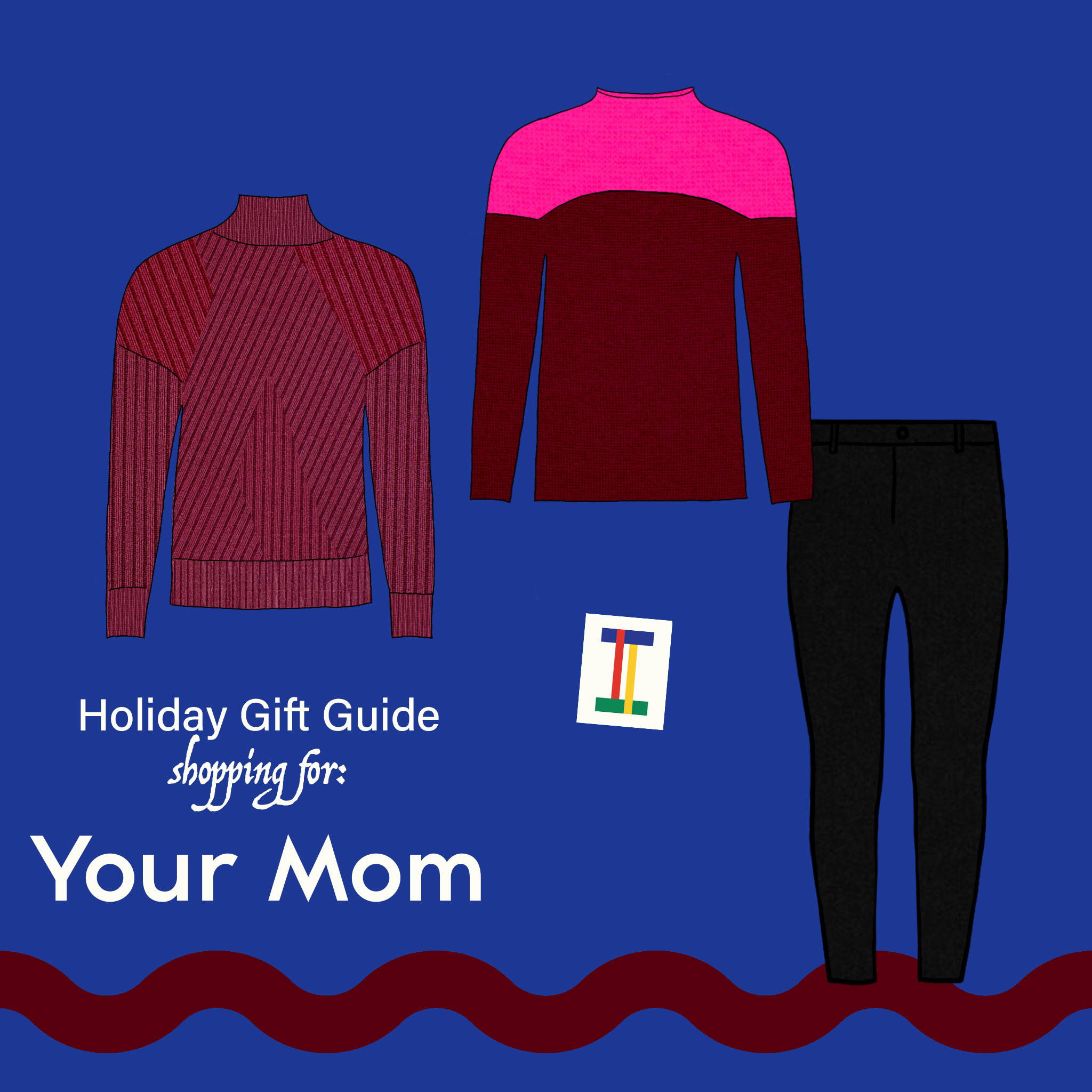 Moms are the best, so they deserve the best. They make us feel loved and cozy, and they deserve a gift that makes them feel the same. Our Ribbed Turtleneck and Color Block Sweater are perfect mom gifts– they're incredibly soft and warm, while still being sophisticated enough for your classy mom. Since moms are practical, get them some pants to pair with their new sweaters– they'll be impressed you thought so far ahead. Our Ultra High Rise Pant is a great pant for moms. They're versatile and stretchy, making them somehow the comfiest and cutest pants ever. Your mom will love wearing these pants while she works, plays, dances, or whatever she likes to do. You might even want to steal them once or twice.